GO-KART SIZES FOR KIDS OF ALL AGES
Come compete on one of our 3 exciting tracks. We have 4 different types of go-karts that will bring the need for speed to all the racers in your group. Racers ages 3 and up will find a ride that will have the wind blowing through their hair! All rides are 5 minutes long and filled with calculated turns and fun.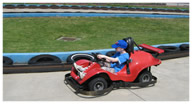 This is a Kart and track for our beginning racers.  Novice racers will enjoy their own oval track where they will only race against other young racers.  Not sure who has more fun on this ride…the little racers or the proud adults watching!
Riders must be 40" to drive
Cruiser Single Ride – $6.50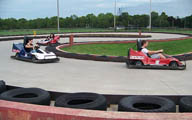 This is the most popular of our go-karts. It is a single seat kart that races on a winding road coarse designed to challenge the most skillful drivers.  Enjoy a 5 minute race or purchase Value Pack!
Must be 52" to drive
Indy Single Ride – $7.50
Indy Six Pack – $42.00
Indy Ten Pack – $65.00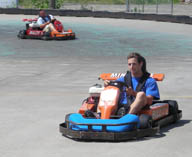 The Bandit is a low to the ground Kart that races on an oval track. Your driving skill will really come into play as you strategize the best way to take the corners in order to edge your way into first place! Feel the adrenaline surge as you compete for the checkered flag!
Must be 60" to drive
Bandit Single Ride – $7.50
Bandit Six Pack – $42.00
Bandit Ten Pack – $65.00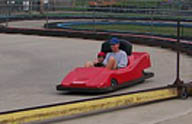 This is our two-seater kart that races on the same track as our Indy Karts.  You and your little ones will enjoy racing the long winding track along side family and friends! The thrill of riding will make your little ones squeal with joy, especially as they pass other racers!  
Little riders must be 36" tall and drivers must be 60"
Double Kart – $9.00
Double Three Pack – $25.00